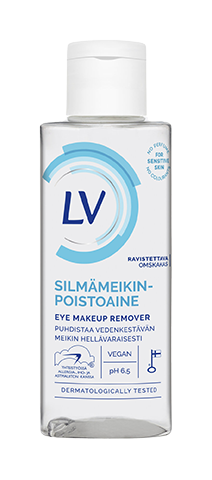 LV Eye Make-Up Remover gently removes waterproof eye makeup.
VEGAN

pH 6,5

Manufactured in Finland

Fragrance-free
LV Eye Make-Up Remover works in two ways: it gently removes waterproof makeup, lip makeup and mascara and contains cleansing and conditioning oils as well as glycerol and xylitol which hydrate the skin around the eyes.
The product is colourant- and fragrance-free. All LV products are made in co-operation with the Allergy, Skin and Asthma Federation, which the Allergy logo is a mark for.