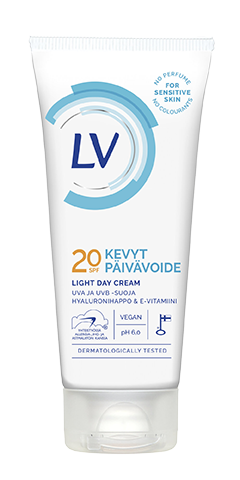 Moisturising and soothing the skin.
VEGAN

pH 6,0

Manufactured in Finland

Fragrance-free
LV Protecting Day Cream SPF 20 is a soft and comfortable day cream that absorbs quickly. The hyaluronic acid contained in the product is an effective skin moisturiser and the prebiotic maintains a balanced microbiome of the skin, strengthening the skin's resistance to external stimuli. Vitamin E acts as an antioxidant and prevents the premature aging effects of the skin caused by harmful oxidation.
The sun protection factor SPF 20 of the cream effectively protects the skin from the harmful effects of UVA and UVB rays, such as burning and premature ageing. Also suitable for use under makeup.
The product is colourant- and fragrance-free. All LV products are made in co-operation with the Allergy, Skin and Asthma Federation, which the Allergy logo is a mark for.